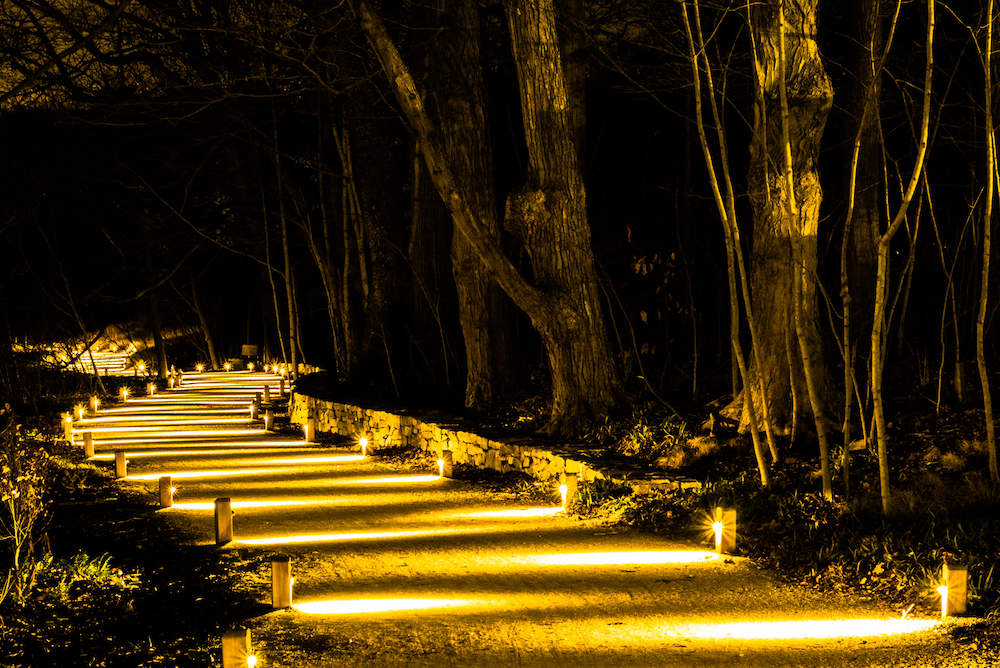 Longwood Gardens' Meadow Path
Happy Holidays!!
As happens every year, the holidays have snuck up on me, and my team waits with calendars ready for me to finish my letter. Each year I spend time thinking about the theme and structure of this letter until I finally sit down and write. Sometimes, like this year, there is some impatient toe-tapping going on in the background.
This year's message became clear earlier this week when I took my mom to Wilkes Barre where we met my oldest sister Denise and my niece Laura for a joyful evening together. We enjoyed a wonderful Italian dinner while catching up, then we crossed the city square to The Kirby Center to see a holiday concert called "Let it Show" featuring a variety of popular artists. The headliner, Adam Lambert, is a family favorite and he put on an amazing show for the enthusiastic crowd. We four stood for his entire set, all smiling at the pleasure of Adam's performance and the shared experience. The next day driving home, my mother said, "Listening and watching together and seeing you, Denise and Laura smiling through the entire show, I was completely immersed in the moment and felt a total sense of love." For me, that sentence and my mother's sense of gratitude is what the holidays are all about. I wish moments like this for you and your family in the coming weeks.
The other joy of the evening was being introduced to the singer Rachel Platten, who wrote and sings the hit "Fight Song". She is an engaging entertainer, and her delightful manner made me listen more carefully to her lyrics. One line from her hit stood out to me. The line "like how a single word can make a heart open…" struck me as an anthem for life, as well as for my business. This year each of my team members has experienced awesome growth, attempting every day to help our clients while keeping our tag line "walking you home" in mind. I feel so fortunate to have my team, and this year our newest member, Sarah Hardin, has come on as our marketing manager. Sarah is an inspiring addition to our group who has joined to help grow our business through marketing, but I also believe Sarah's example as she lives the "walking you home" perspective every day has made us all better. My team and I are grateful for each other and for all of you, our clients who allow us to alleviate your stress and help walk you through the real estate maze. We appreciate the opportunity. I wish you the happiest of holidays and a great year in 2016.
Best wishes,
Susan