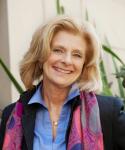 Janice Roosevelt, ABR
Passionate about helping people buy and sell homes, investment real estate and vacation properties, Janice is a high-touch agent with high-tech skills. Seasoned in the 5-county area in southeastern Pennsylvania and in Delaware, her connections reach coast to coast and extend overseas.

Janice recently "came home" to Susan Manners' Team where Susan was her original mentor at Prudential Fox & Roach Realtors. Susan made an offer I couldn't refuse. Our philosophies of delivering superior client service are aligned. In an era when it's challenging is to get a live person on the phone, SMT is committed to ensuring a smooth transaction all the way through. In 2011, not one transaction "fell through," a true rarity in this market.

Devoted to the success of buyers and sellers in a changing market place, Janice recognizes that "cookie cutter" approaches are not the answer. Each potential sale gets a thoughtful, individualized approach. No matter what the situation or market conditions, you want an agent who focuses on your business, and Janice delivers.

We educate buyers and sellers and speaking the truth, she commented.
It is why she has been an award-winning, top-producer in the industry for more than a decade.

How many realtors do you know that teach yoga? Registered with the National Yoga Alliance, Janice teachers as part of the Empowered Yoga organization in DE & PA, and the Kennett Area YMCA. Formal education includes a BA magna cum laude, University of Minnesota and MFA, Florida State University. Past work experience ranges from 20 years in top management at a large national organization to an independent marketing consultant for a myriad of companies.

The mother of two grown sons, she has been active in a variety of school, church, and scout, cultural and athletic programs.